VAN 157

Ass/Blood Music

split ep

Format: 7"

Edition: 500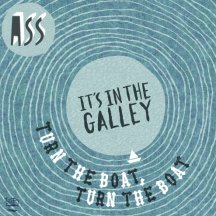 Released 14th April 2008
Scandinavia has long been synonymous with some of the most staggeringly atmospheric pop music. With national compatriots among the likes of Dungen, Jens Lekman, Jose Gonzalez and El Perro Del Mar, there must be something in the water in northern Europe. This split single brings together two of Sweden's most singular songwriters, Ass and Blood Music each contributing two tracks apiece.
Ass is the nom de plume of songwriter Andreas Soderstrom, a multi-instrumentalist who taught himself to play a plethora of instruments in his father's bouzouki factory. His beautifully austere offerings are a product of dovetailing folk-inspired acoustics with subtle electronica. Sharing a few reference points with fellow Swedes and former touring partners Tape, his self-titled album is magical and maudlin, along with lots of other words beginning with the letter 'M'.
Blood Music, whose album Sing A Song Fighter was issued on Static Caravan in 2006, is Karl-Jonas Winqvist. Dabbling in idiosyncratic left-field pop, Blood Music is a one-man band feeding piano-led narratives through a folkadelic kaleidoscope, all twitchy rhythms and easy tones which contribute to a decidedly wonky concoction. His is a peculiar aesthetic but one which is an unbridled joy, and Winqvist's dazzling approach sees an array of instruments anchored to his offbeat world.
The two songs found here from Ass drip with melancholy; It's In the Galley is a plaintive guitar-led composition which twinkles and chimes despite a deep sense of foreboding, while Turn the Boat, Turn the Boat is a devilishly downbeat mélange of piano and strings. A macabre hymn of sorts, you can almost imagine Will Oldham mumbling over the top of it.
On Problematique, Blood Music pummels away at a handful of instruments to create a superbly swirling sound, proving that the Swedish disposition seems to be disproportionately sunnier than almost anywhere else in the world, despite – or should that be because of – their climate, while the organ, plucked guitar and mournful horn on Don Quite feel as lithe and cinematic as prime-era Morricone.
Limited to 500 copies on seven inch coloured wax only. Vinyl comes in a Ben Javens designed sleeve.