VAN 216

Seahawks

Astral Winds / High Tides

Format: 7" picture disc

Edition:
*Initial 200 copies with bonus CD - SOLD OUT*
Seahawks sail inland with two sun bleached slices of psychedelic deck shoe gaze and pan fried beach pop.
Moored offshore next to a Cornish atoll and utilising modern aqua technologies they captured the sounds of snorkelling, the melodies of the ocean and sub Neptune deep harmonics.
Obsessed with the sounds of the smooth and the deep, seahawks create an oceanic tapestry of deep listening ambience, phased beats and celestial debris filtered from the briney ether.
Swim with the dolphins and take a trip into the blue if a merman you should be.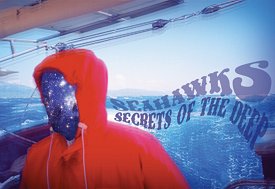 Exclusive seven-track bonus CD with the 200 Seahawks 7" singles.
Tracklist:
Deep Secrets
Hot Tub
Spaced Rider
Sun Trails
Fantasy
Cruisin'
High Seas Drifter